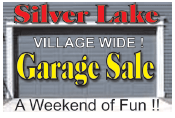 The fourth annual Silver Lake Village Wide Garage Sales will be held on the weekend after Memorial Day and the weekend before Labor Day.
A total of 63 families have participated in one or more of the weekend events.
This year there will once again be two garage sale weekends — the weekend after Memorial Day, May 31 through June 2, and the second again on the weekend prior to Labor Day, Aug. 23 to 25.
There is no fee or cost to you to participate — however donations to help offset printing and publicity will be accepted, but not expected.
A map and index of the sales that are registered up to three days prior to the event will be published and distributed.
Feel free to write, email, call, or stop in to see Andy Lorentz  at Shirtz Happen, 418 S. Cogswell Dr., Silver Lake, if you have any questions or ideas: andy@shirtzhappen.com or 262-206-6954.