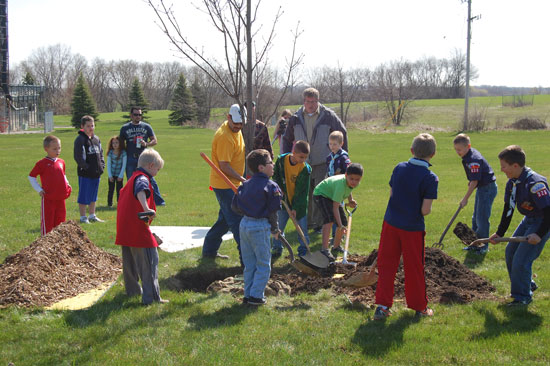 Paddock Lake celebrated Arbor Day today by planting a tree at Village Hall.
This year's tree was a Norway maple supplied by Ludwig Nursery in Brighton.
Trustee Jill Smart led the ceremony, which included the tree planting, the presentation of a Tree City USA flag to the village by Wisconsin Department of Natural Resources representative Kim Sebastian and presentation of the history of Arbor Day by state Rep. Samantha Kerkman.
Cub Scouts from Pack 328 and any other willing attendee helped with the tree planting and mulching.
This was Paddock Lake's 14th year earning the Tree City USA designation, Sebastian said.
After the planting, refreshments supplied by Heidi's Bakery and Lakeside Sentry (Note: Heidi's Bakery and Lakeside Sentry are westofthei.com sponsors — DH) were served in Village Hall.
Here are some video highlights by Maggie Hillock:

Here are some more photos: