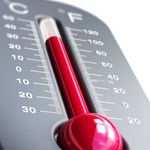 It's been a chilly April around these parts no doubt. Wet too.
But perhaps April is still trying to redeem itself in its waning days.
Highs in the 70s — remember the 70s? — are in the current National Weather Service forecast for Monday and Tuesday. And temps should be warming up gradually until then, with the following highs forecast: today 52, Friday 64, Saturday 65, Sunday 69.
There's no substantial forecast for rain during the period either.