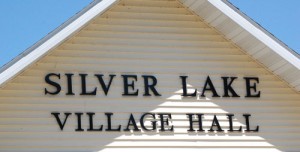 Silver Lake Village Board members didn't sound enthusiastic about joining a fire/ems efficiency study for Western Kenosha County municipalities.
The study is being championed by the Bristol village government. At a meeting last month in Bristol, a consultant gave a presentation on how such a study would work. Those present, which included former Silver Lake President Jeff Albrecht and current President Sue Gerber, agreed to get back to Bristol about their intentions of participating by the end of April.
The study would look at all existing participating departments and propose increased efficiency through cooperation of services or perhaps a full consolidation. Among the  types of studies that would be done would be mapping that would show response times from existing fire stations in the study area. Many of the topics explored in typical consolidation studies — such as consolidating dispatch or formalizing cooperative service agreements — are already in place here.
Support for joining the study was lukewarm at best at the Silver Lake Village Board meeting last Wednesday.
Some of that sentiment appeared to come from which municipalities are committed to the study. Last week, the Wheatland Town Board heard from their department's leadership that that department was not interested. That Silver Lake neighbor Salem also is not committed was commented on.
"If Salem doesn't get into it there's no point," said Trustee David Snow, a Silver Lake Fire Department member. "I can understand why Bristol would want to do it, but I don't think it is in our favor."
The cost discussed at the March meeting in Bristol was $1 per resident. That would mean a cost for Silver Lake of between $2,400 and $3,000, Gerber said.
The village can put that money to better use elsewhere, Trustee Barbara Ironside said.
Trustee Patrick Dunn said to him the study sounds like a precursor to forming a fire protection district, which the departments could do without hiring a consultant if there's interest.
Silver Lake  has been examining the future of its fire department since Sept. 2011, including forming an ad hoc committee of veteran fire service participants to make recommendations. Last month, the Village Board voted to contract with Salem for EMS services such as transport and have Silver Lake Fire Department members begin answering medical calls as first responders. For about 30 years previous, the village had contracted with Silver Lake Rescue Squad Inc. for EMS.
The Salem Town Board has not voted on the EMS contract with Silver Lake.