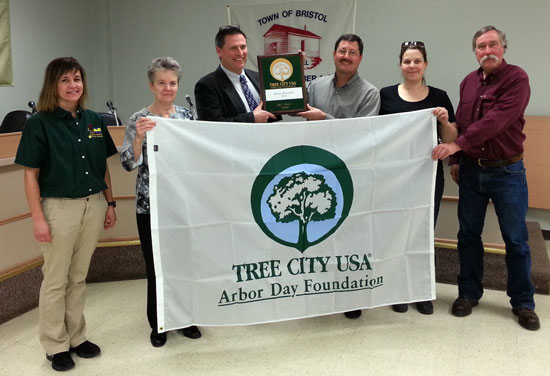 Bristol received it's official Tree City USA flag and plaque Monday in a ceremony conducted by the Wisconsin Department of Natural Resources at the Village Board meeting.
Kim Sebastian of the DNR said Bristol will be one of 180 or so communities in Wisconsin to earn the designation this year. That is the second highest number of tree cities in the country, behind only California.
In Western Kenosha County, Paddock Lake is also a Tree City USA.
"Thank you for putting that green foot forward, for showing communities in this area that this is an important part of your community …," Sebastian said to the Village Board.
Bristol had to meet four requirements to earn the designation:
Establish a tree department to look over village trees.
Pass a tree ordinance.
Host an Arbor Day ceremony and pass an Arbor Day proclamation.
Establish an tree budget.
Village officials have stressed in the past that the budget did not necessitate any new tax dollars. Earning the status  may help the village get grants for tree-related projects in the future.
Here is video of Sebastian explaining the award and presenting the flag and plaque: