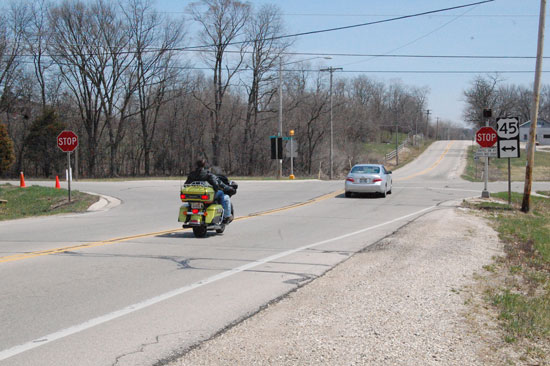 The intersection of Highway K and 45 — notorious among local residents as a location of serious crashes through the years — will be changed to a four-way stop by the Wisconsin Department of Transportation.
Currently only traffic on Highway K has to stop.
Mike Pyritz, a WisDOT spokesman, said re-striping and sign placement for the change is scheduled to begin next week.
The move to a four-way stop was prompted by concerns regarding the safety of the intersection, Pyritz said. State officials have said the Highway K/45 intersection has more than double the federal acceptable threshold of crashes and is among the 5 percent most hazardous intersections in the region
But the four-way stop is likely only a temporary situation. Despite the new controls at the intersection, the process to redesign the intersection on a more permanent basis — which has been going on since 2011 — will continue, Pyritz said.
That last time those plans were updated locally last spring, state officials were saying they favored constructing a roundabout at the intersection. A timeline shared in 2012 called for  land acquisition to take place in 2013, final plans to be completed by fall 2015, letting and bidding to take place in winter of 2016 and construction to start in fall of 2017. Construction would take five months for a roundabout.
Related posts
State favors roundabout for Highways 45 and K, says project engineer
WisDOT to host Highway K and 45 roundabout meeting
WisDOT expected to host roundabout meeting in April
Roundabout coming to Highway K and 45 intersection?