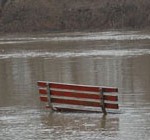 The Fox River has dropped below 14 feet at the New Munster gauge, registering at 13.84 feet as of 4 a.m. Monday.
The river is now in moderate flood stage. A flood warning is still in effect.
There is more rain in the National Weather Service forecast for tonight and Tuesday. After that, the week looks much drier than last week.
Temperatures also are slowly creeping upward. Today's high is forecast at 63. Highs through the week should be in the 50s. Sunday might be a bit warmer with a high of 66 forecast for now.