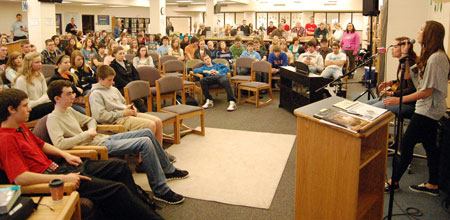 Wilmot Union High School students celebrated poetry in many forms at the school's annual Poetry Day Thursday.
April is National Poetry Month, explained Jessica Hammersmith, Wilmot library media specialist.
Students were able to listen to poetry readings by students and others in the library. It was a laid back coffee-house like atmosphere, with students also able to purchase popcorn, dounuts coffee or water.
The Wilmot Jazz Band also played a few selections Thursday morning too. April is also National Jazz Appreciation Month.
Here is some video of some of the  happenings Thursday: