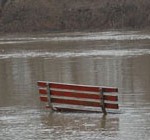 The latest National Weather Service forecast for the ultimate crest of the Fox River has been revised down again slightly.
The river is now forecast to crest at 15 feet, as of an updated forecast created by the NWS at 7:01 a.m.
If reached, 15 feet would be the second highest crest on record. The highest crest on record is 15.18 feet on June 15, 2008.