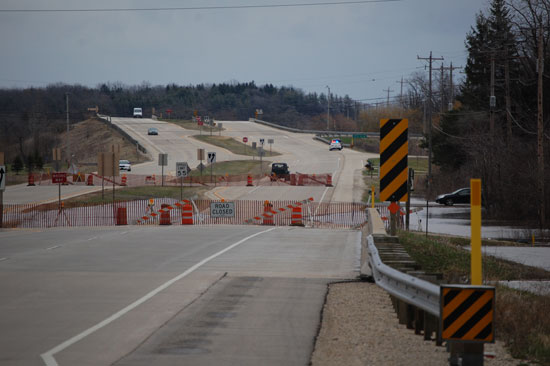 I took a spin this afternoon to see how the Highway 50 closure was set up.
Traveling westbound, the closure and detour starts being announced east of Paddock Lake. The official detour route of Highway 75 to Highway 142 to Highway 83 is posted at Brass Ball Corners (Highways 50 and 75), but on Highway 50, the signs say road closed ahead at that point.
There is a more insistent barricade at Highway B. The traffic signals there also are set on flashing red. Most traffic I observed there chose to go north or south on B. There was not much traffic coming eastbound.
Coming around from the other direction, Highway 50 is completely blocked just east of Highway W-south with stout barricades across all lanes. On the other side of the bridge, Highway 50 is blocked with snow fence from end to end. From what I could see, it looks like the same arrangement reversed for westbound traffic. When I was there this afternoon, there also were two deputies there. There was no traffic coming eastbound while I was at Highway W. Vehicles were making the turn at Highway 83 to go to the official detour instead.