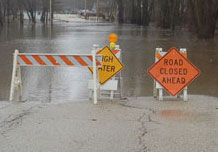 Here are places we are hearing reports of new street flooding this morning:
12800 block of Highway N in Paris
22200 to 22300 block of 122nd Street in Salem.
Highway AH in Salem — 207 block and about the 23600 block.
Highway B in the area of Highway NN in Brighton.
Highway EA, 1600 block, in Brighton, southbound lane covered in water.
Highway V, just west of Highway 45, in Bristol. UPDATE 7:30 a.m. — Deputy on scene reports water is very close to road but not over it yet.
122nd Street near Rock Lake Road. Highway department to block 122nd.
I-94, southbound lanes just south of Highway 50. High water reported in the left lane.
236th Avenue in Paddock Lake is closed due to water over the road. — Note: Thanks for the tip, Marie Simmer. — DH
256th Avenue in the area of Salem Community Park.
216th Avenue and 81st Street in Bristol.
Showers and thunderstroms today could bring another 1 to 2 inches of rain, the National Weather Service forecast says.