The Wisconsin Department of Transportation is planning to close Highway 50 from Highway 75 in Paddock Lake to Highway 83-north in Wheatland starting early Friday morning.
The closure is apparently due to concern about the rising level of the Fox River, which flows under Highway 50 in Wheatland near Highway W.
Official detours are as follows:
Eastbound: north on WIS 83, east on WIS 142, south on WIS 75.
Westbound: north on WIS 75, west on WIS 142, south on WIS 83.
Fortunately, Highway 75 was re-opened today after being shut down between Highway JB and 18th Street since last Friday due to concerns about the possibility of the Vern Wolfe Lake dam failing.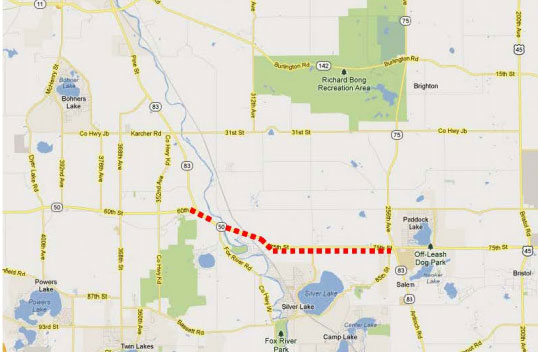 This map supplied by the Wisconsin Department of Transportation shows the area of the Highway 50 closure.[/caption]