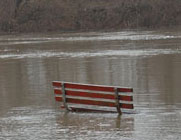 The National Weather Service is forecasting a new crest of 14.1 feet for the Fox River at the New Munster gauge.
The mark, expected to be reached early Sunday morning, would put the river just a bit over the major flood stage of 14 feet. A crest of 14.1 feet would be the third highest on record.
The river had been receding from a crest of 13.34 on Friday — the fifth highest mark on record. But heavy rain is in the forecast for tonight and Thursday, with as much as 3.5 inches possible through Friday.
River water is already over the banks, around some homes and across roads in flood prone areas of Silver Lake, Salem and Wheatland. NWS impact guidelines say flooding will be widespread in  those areas when the river hits 14 feet.
Salem town Clerk Cindi Ernest said the town has been informed by Kenosha County Emergency Management that residents who are experiencing flooding, can pick up sandbags located on pallets at the entrance to the Wilmot Gravel Pit on Highway C.