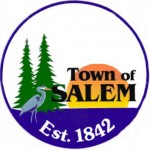 Salem Town Board members  at a Committee of the Whole meeting Monday agreed to give the proposed contract with Silver Lake to provide emergency medical service to that village a close look and submit questions and additions to town staff.
But no consensus on the fate of the agreement was readily apparent from comments by board members.
About 30 people attended the meeting, many from Silver Lake. Town Chairman Diann Tesar allowed comments and questions from the audience at the start of the meeting.
Last month, the Silver Lake Village Board voted to contract with Salem for EMS service. Under the broad outlines of the agreement, trained first responders from the Silver Lake Fire Department will respond to medical calls along with paramedics from Salem Fire/Rescue. If a patient needs transport to a hospital, Salem will provide it. In exchange, at some future date, the Silver Lake Fire Department will serve part of Salem northwest of the village for fire protection.
The current draft agreement calls for Silver Lake residents to be billed as non-residents for services when they are transported to a hospital as part of a medical call. If Salem Fire/Rescue responds and does not transport a patient, the village will be billed $100, said Patrick Casey, Salem town administrator. That point was not well understood among the public as Silver Lake officials supporting the contract with Salem have repeatedly said at public meetings that there would be no charge to the village for EMS other than what patients were billed.
Comments from board members included:
Supervisor Dennis Faber said he had "many questions." He stated that Paddock Lake pays $187,000 and Brighton $50,000 to Salem for contracted fire and EMS service. If you assumed half of that Paddock Lake charge is for EMS that is about $31 per capita. He said he was in favor of working with other communities if it helps spread the costs for all, including Salem taxpayers. In reply, Casey replied that the Silver Lake proposal is a different model of service than is provided to Paddock Lake and Brighton. The service to Paddock Lake and Brighton  is complete for fire and EMS without any first responders or fire department provided by Paddock Lake and Brighton. Silver Lake will be providing both first responders and fire coverage for the village. Faber also suggested that perhaps mileage should be charged to Silver Lake even in cases of no transport of a patient.
Supervisor Mike Culat said he needed more time to make an informed decision: "I'm willing to do whatever is right for everybody. I'm not in a position right now to make a decision for or against …"
Supervisor Ted Kmiec said he planned to mostly listen Mondaynight, so he was glad for the public comments. He added that the board needs more time to assess what makes sense.
Supervisor Dan Campion said the board needs to determine what is the value of the service being offered to Silver Lake and determine if that is being compensated by the contract. He added that he did not want to see the town get involved in an emotional situation and he asked the audience to try to separate themselves from their emotions on the issue. He expressed concern about sending Salem personnel into such a charged atmosphere. He also expressed concern about serving Silver Lake for EMS adversely effecting the town's fire rating.
Chairman Diann Tesar spoke last. She said "it all comes down to money" and that "we have to look out for our residents." She expressed thanks for all of the comments and added that she would have liked to have heard from more Salem residents.
Almost all of those who spoke at the start of the meeting were Silver Lake residents. Many of the comments were familiar to those who have been following the controversy. Former village President Roger Johnson questioned the legality of Silver Lake reconsidering the agreement after it was voted down in December. Silver Lake village President elect Sue Gerber asked several questions about the process, which were answered by Casey. Silver Lake Fire Chief Andrew McFarlane said his department was looking forward to working with Salem and several other Silver Lake firefighters echoed his sentiments. Silver Lake village President Jeff Albrecht defended the process that resulted in the proposed agreement between Salem and Silver Lake.
A timeframe for the board to consider and possibly vote on the matter again was not set. Casey asked that any questions or comments be submitted to him in the next few days so they could be addressed as quickly as possible.