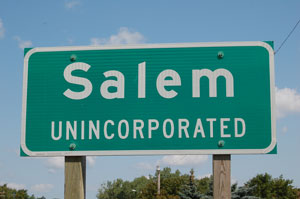 A motion from the floor seeking to have the Salem Town Board halt further consideration of providing emergency medical services to Silver Lake failed  in a very close vote at the Salem annual meeting Tuesday night.
The motion was made by Salem resident Vince Mutchler, a retired Kenosha Police detective. In introducing his motion, Mutchler called Salem providing EMS services to Silver Lake as a "reckless" reduction in services for both municipalities.
At annual town meetings electors are able to vote directly on certain issues. Some elector decisions, such as borrowing, are binding. Others are advisory.
The town's attorney for the night, Brian Wanasek, said state statutes dictated that Mutchler's motion would have to be advisory only.
The vote was 27 yes to 31 no.
Last month, the Silver Lake Village Board voted to contract with Salem for EMS service. Under the broad outlines of the agreement, trained first responders from the Silver Lake Fire Department will respond to medical calls along with paramedics from Salem Fire/Rescue. If a patient needs transport to a hospital, Salem will provide it. In exchange, at some future date, the Silver Lake Fire Department will serve part of Salem northwest of the village for fire protection. The current draft agreement calls for Silver Lake residents to be billed as non-residents for services when they are transported to a hospital as part of a medical call. If Salem Fire/Rescue responds and does not transport a patient, the village will be billed $100, said Patrick Casey, Salem town administrator. That point was not well understood among the public as Silver Lake officials supporting the contract with Salem have repeatedly said at public meetings that there would be no charge to the village for EMS other than what patients were billed.
Mutchler said after the meeting that he is concerned that the agreement will over extend Salem resources. He said he expects to continue to try to influence public opinion on the issue.