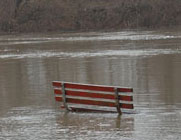 The National Weather Service forecast for flooding along the Fox River as measured at the New Munster gauge has moderated some.
The NWS is now calling for a crest of 13.54, to be reached early Saturday morning. Earlier the NWS had forecast a crest of a smidge over 14 feet, the start of the major flood stage standard.
Still water is well over the banks of the river through Western Kenosha County and around homes and over nearby roads in some spots. The latest measurement at 6:45 a.m. was 13.23 feet. Even that mark would make it the fifth highest on record with the NWS.
Related posts