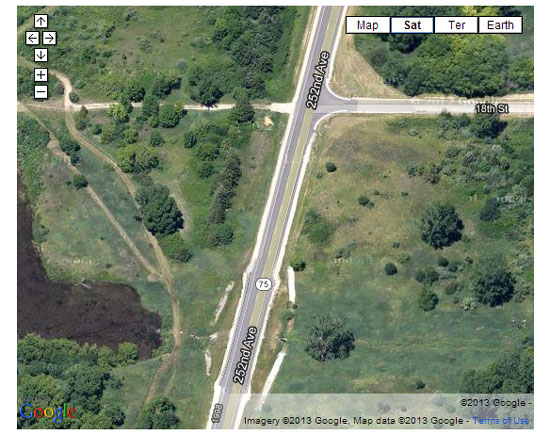 The levee on Vern Wolf Lake in the Richard Bong State Recreation Area is being monitored for a possible breach, which could affect Highway 75, the Kenosha County Sheriff's Department announced today.
Though the levee is intact as of  about 2:40 p.m., Highway 75 is being shut down near 18th Street as a precaution. The closure will remain in effect until further notice.
The Sheriff's Department announcement says:
Due to the recent and ongoing heavy rains, there is the possibility of the levee, which retains Vern Wolf Lake, failing. The levee is located on the west side of STH 75 South of 18th street. If the levee should fail, STH 75 South of 18th street would flood immediately. It is expected that flood waters would at best compromise the integrity of STH 75 and at worst wash out portions of the road. The Wisconsin Department of Transportation has requested that STH 75 be closed from STH 142 to CTH K. Local traffic will be allowed, but NO TRAFFIC will be allowed to cross the culvert on STH 75 South of 18 th St. The Kenosha County Highway Department is in the process of placing barricades to block the road. This portion of the roadway will be closed until further notice. Kenosha County Sheriff David Beth has ordered that a deputy will monitor the area in order to ensure that no one violates the road closure. Vern Wolf Lake is a 93-acre lake located within the Richard Bong Recreation Area in the Town of Brighton, with depths reaching up to 12 feet. Portions of the lake are as close as about 50 feet from STH 75. The levee has been and continues to be evaluated by engineers from the Wisconsin Department of Natural Resources. The spillway for Vern Wolf Lake feeds into Brighton Creek. The property immediately downstream is farmland. Flooding of the farmland is expected if the levee fails. No structures are believed to be threatened should the levee fail. The Wisconsin Department of Natural Resources will maintain incident command and should be contacted for any follow up to this story.