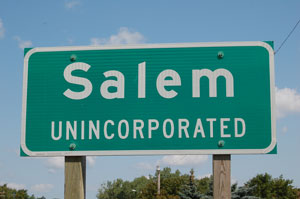 The Salem Town Board on Monday set a budget for its fall community festival Pumpkindaze with $20,100 in anticipated revenue and $15,000 in anticipated expenses.
That budget includes $3,000 to hire the band Bella Cain as the evening's main entertainment. Hiring the well-known band had been a point of contention among some festival organizers. Supporters of hiring the band felt it would give the town the chance to draw a larger crowd and consequently bring in more revenue from food and drink sales, while opponents felt it was not worth the extra expense of about $1,200 over what was spent for a band last year, the festival's first year.
The board held separate votes on the budget and hiring Bella Cain. Both passed unanimously.
The Town Board also heard that a venue was more firm than last month. Lon Wienke, representing the Kenosha County Fair Board, said the fairgrounds would be available for the town to use as a location. Town Supervisor Mike Culat  said the festival organizing committee would like to tour the fairgrounds facilities yet.
Last year's festival was held at the Trevor Fire Station/Highway Building on Highway C. Problems with parking developed there, causing the organizers to consider other venues. If the fairgrounds does not work out for some reason, they are prepared to locate the festival at the Highway C complex again.
The board is expected to vote on a formal budget amendment reflecting the Pumpkindaze expenditures at a future meeting.