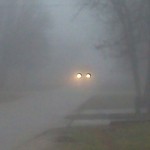 Western Kenosha County is under a fog advisory issued by the National Weather Service  until 11 a.m. this morning. Visibility could be as low as a quarter mile.
And the rain from yesterday, and the rain expected today and tomorrow and Thursday, has prompted the NWS to issue a flood warning for the Fox River. The river at the New Munster measuring station is expected to reach a peak of 11 feet on Thursday, continue at that level through Friday before beginning to recede later on Friday. Flood stage is 10 feet.
The high temperatures will be 46 today, with highs getting slowly cooler through the week. Thursday's low of 31 may bring some of the expected rain as snow.