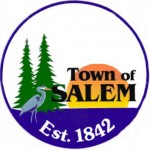 Salem will consider next week whether to approve a contract with Silver Lake for Salem to provide emergency medical services to Silver Lake.
The Silver Lake Village Board approved the contract March 20. Initially, Salem scheduled a special board meeting for March 26 to consider the agreement, but that meeting was cancelled. The Salem Town Board had its regular monthly meeting tonight, but town Chairman Diann Tesar said the matter was too big of an issue for that agenda. Instead she opted to slate it for the committee of the whole meeting next Monday.
"This would allow the board tonight to have a protracted discussion without rushing through to accomplish finishing the agenda," Tesar said.
Also, some information the board requested is not yet available, Tesar added.
While their last formal agreement with the village expired March 31, Silver Lake Rescue has agreed to continue to cover the village in the interim.
Last year, Silver Lake began considering discontinuing its long-standing contract with Silver Lake Rescue Inc. in favor of an arrangement with Salem Fire/Rescue for EMS with Silver Lake Fire Department firefighters acting as first responders on medical calls. Silver Lake Rescue is a free standing entity while the Silver Lake Fire Department is part of the village government. The village has been paying Silver Lake Rescue $27,000 a year for its services. In theory, the agreement with Salem could let Silver Lake keep the $27,000 it now pays to Silver Lake Rescue to bolster fire department funds.
The agreement between Salem and Silver Lake will include no charge to the village for EMS services, though patients will still be billed, as they are by Silver Lake Rescue, Silver Lake village officials have said. Under the agreement, Silver Lake Fire Department will in the future provide fire protection services for an area of Salem located just northwest of the village boundaries.