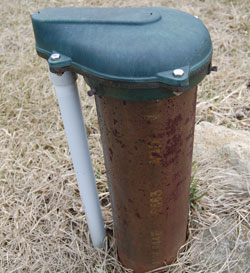 With most Western Kenosha County residents getting their water from private wells (including here at westofthei.com HQ), this info from the state Department of Natural Resources caught my eye:
Now is a good time for the nearly 1 million Wisconsin households that get their drinking water from private wells to test the water's safety, state drinking water and public health officials say. "Most private wells provide safe drinking water, but we tend to see an increase in well contamination problems after spring thaw," says Steve Ales, who leads the private water section for the Department of Natural Resources drinking water and groundwater program. "Public water systems are tested regularly. But the only way to know if your private well water is safe is to test it at least once per year," says Dr. Henry Anderson, State Health Officer with the Wisconsin Department of Health Services. "Call your local health department to find out how to test your well." Information about well testing, including a video to show how to collect a water sample and lists of certified laboratories that can perform the testing also can be found on DNR's website, dnr.wi.gov, by searching for "wells." Most private wells provide a safe source of drinking water, but some become contaminated with bacteria that is not filtered out as the water soaks into the ground. Surviving bacteria can find its way into the groundwater by moving through shallow fractured bedrock, quarries, sinkholes, inadequately grouted wells or cracks in the well casing. Insects or small rodents can also carry bacteria into wells with inadequate caps or seals. DNR and DHS recommend that people test their private wells at least once a year for bacterial contamination and any time they notice a change in how their water looks, tastes or smells. Certified labs can easily test water for coliform bacteria, an indicator that a disease-causing contaminant might be present, and e-coli, a bacteria that can cause human illness. In Wisconsin, a statewide assessment showed about one-quarter of private well water samples tested positive for bacteria and about 3 percent of private well water samples tested positive for E. coli, according to the 2012 Groundwater Coordinating Council Report to the Legislature. DNR and DHS also recommend that people test their private well at least once a year for nitrate contamination. It is especially important to know nitrate levels in wells if the water is to be consumed by a pregnant woman or an infant. Too much nitrate in a well could harm a fetus or infant, Ales says. Nitrate is Wisconsin's most common groundwater contaminate; statewide, about 9 to 11 percent of wells exceed the nitrate enforcement standard of 10 milligrams per liter. Exceedence rates are greater in agricultural districts, with rates in highly cultivated areas in south-central Wisconsin estimated at 21 percent of wells and 20 to 30 percent of the privately owned wells in Calumet, Columbia, Dane, La Crosse and Trempealeau counties exceeding the nitrate standard, according to the 2012 Groundwater Coordinating Council Report to the Legislature. Other tests may be warranted if the area has a problem with particular contaminations because of surrounding land uses or the bedrock formations holding the groundwater the wells tap. A recent survey found that well owners are not testing as regularly as they should be and are not testing for the range of contaminants that may be in groundwater: less than a quarter of the private wells supplying households had been tested within the past year, according to the 2008-9 Behavioral Risk Factor Survey.
Several municipalities here have been announcing the availability of water testing kits recently. Check with your town or village government for availability.