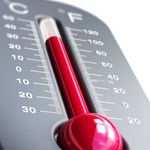 Temperatures are slowly rising each day of late, but we shouldn't expect to break though the 50 degrees mark until Saturday, says the National Weather Service forecast.
But there's a 20 percent chance of rain Saturday and a 70 percent chance of rain Saturday night to dampen any enthusiasm for the warmth.
Temperatures also don't look like they are going to stay seasonal either. Sunday the high is forecast to reach just 48 and Monday just 37 and be in the 40s for the forecastable future after that.
The relatively warmer temperatures and the rain Saturday are expected to have an effect on the Fox River however. The river is forecast to reach the 10 foot flood stage on Sunday and rise to about 10.4 feet by Monday. Levels should then start to drop again Tuesday.