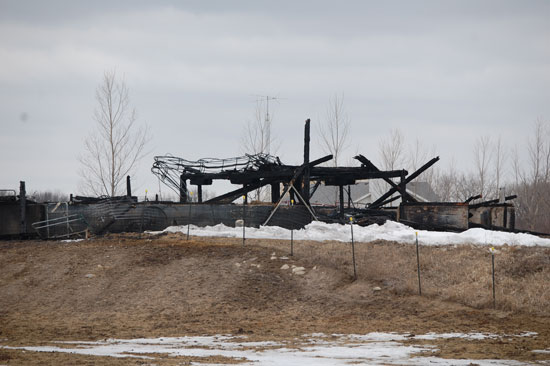 Most of the animals in a barn that caught fire in Brighton this morning were able to get out before they were harmed.
However one goat did not get out and died in the barn, which itself was a total loss, said Battalion Chief Tom Seep, Salem Fire/Rescue.
The fire in the barn in the 3300 block of 264th Avenue (Highweay PH) was reported about 3:30 a.m., Seep said. When the first firefighters arrived on the scene the barn was already fully engulfed with horses and two other goats outside in a pasturing area they accessed through an open door.
"No one saw it until the whole barn was involved," Seep said.
The barn was about 100 years old, Seep said.
The vinyl siding on the property owner's home and a garage were damaged by the heat from the fire as was plastic on a pick-up truck parked at the property.
"At some point it was pretty hot," Seep said of the fire.
No firefighters or residents of the property were injured.
The goat that died was a family pet and a tough loss for the family, Seep said.
Firefighters were on the scene until about 7:30 a.m. They were called back at about 8:30 a.m. to extinguish some hot spots, Seep said.
An engine and tanker from all three Salem Fire/Rescue stations responded along with an ambulance. Kansasville Fire Department also responded and a MABAS box alarm brought tankers from Bristol, Silver Lake and Town of Burlington fire departments. Sheriff's deputies also were at the scene.
Seep said a short in water heaters for the animals may have caused the fire.