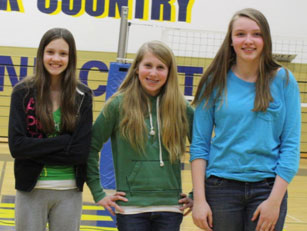 Four Wheatland Center School students have received awards and recognition in the Southeast Wisconsin Regional Scholastic Art & Writing Awards.
The following students will be honored at an awards ceremony in Kenosha on March 23:
Seventh Grade: Kayli Humphrey, Honorable Mention poetry.
Eighth Grade: Sarah Verzal, Gold Key – Poetry; Brittany Selby, Silver Key – Short Story; Savannah Meyers, Silver Key – Poetry and Honorable Mention – Poetry.
The Southeast Wisconsin Scholastic Writing competition was open to students in grades 7-12 from Kenosha, Racine, and Walworth counties. Students' entries were judged blindly by at least three jurors, and tabulated to award three levels of recognition: the Gold Key, which is the highest award, followed by Silver Key and Honorable Mention awards. Entries receiving Gold Keys advanced to New York for national judging by professional writers, editors, publishers, and educators.
For additional information, please see artandwriting.org.