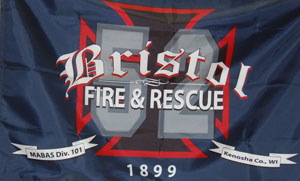 A fire in a Bristol home Wednesday afternoon caused "substantial structural damage" and the deaths of several animals, a Kenosha County Sheriff's Department reports says.
The fire was at a home in the 19300 block of 116th Street (Highway V) in Bristol. It was reported at 3:12 p.m. by a neighbor. That neighbor later tried to gain entry to the house, but was unable to due to smoke and heat.
Upon arrival at the scene, a deputy observed heavy smoke coming from underneath a door on the attached garage. Smoke was also seen coming from other doors, a chimney and vents.
No people were inside the house at the time of the fire. One dog was retrieved from the garage and was revived by rescue personnel at the scene with oxygen. Two other dogs were found dead inside the home, one in a cage and one loose. A cat and several small chickens were also found dead in the home.
A Bristol Fire and Rescue Department officer at the scene said the fire did not appear to be of a suspicious nature and was likely due to an electrical malfunction, the report said.
Related posts