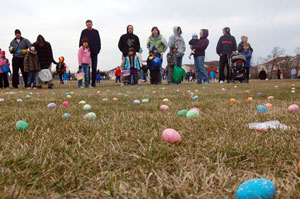 The Westosha-Salem Kiwanis Club will host its Easter Egg Hunt on Saturday, March 23, at noon sharp. Line-up starts at 11:45 a.m.
The event is open to all children ages 2 to 10 west of I-94 in Kenosha County. It will be held at Salem Grade School, Highways AH and 83.
There will be three age brackets: 2 to 4 year olds, 5 to 7 year olds and 8 to 10 year olds.
There will be gifts for everyone, and lots of extra prizes. Be sure to check your eggs to see if you won a prize. There will be a grand prize egg in each age category.