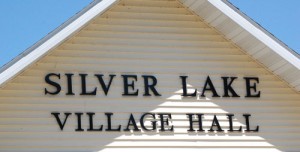 The Silver Lake Village Board approved an agreement with Salem for Salem to provide EMS service to the village for at least the next two years.
Trustee Sue Gerber was the only vote against the agreement.
The vote appears to end what has been the most contentious issue in the village over the last six months. The issue at times has drawn so many audience members to board meetings that the Village Hall meeting room was over its legal capacity.
President Jeff Albrecht said the latest agreement will work much like an agreement between the two municipalities that was rejected in December. Under the agreement, Silver Lake Fire Department members will act as first responders for medical calls, with Salem Fire/Rescue personnel also responding and providing medical transport to a hospital if needed. Salem will be able to bill residents or their insurance companies for services rendered. Salem will not charge the village for the service.
Since the mid 1970s, emergency medical services had been provided to the village by Silver Lake Rescue Squad Inc. Last year, Silver Lake began considering discontinuing its long-standing contract with Silver Lake Rescue Inc. in favor of an arrangement with Salem Fire/Rescue for EMS with Silver Lake Fire Department firefighters acting as first responders on medical calls. Silver Lake Rescue is a free standing entity while the Silver Lake Fire Department is part of the village government. The village has been paying Silver Lake Rescue $27,000 a year for its services. In theory, the agreement with Salem could let Silver Lake keep the $27,000 it now pays to Silver Lake Rescue to bolster fire department funds.
An agreement with Salem Fire/Rescue was voted down Dec. 12 at a special Village Board meeting after extensive discussion. But village attorney Linda Gray said the agreement approved tonight was a new one so it could be voted on.
"My instinct is we should take a look at this again," Albrecht said after distributing a copy of the agreement to board members.
Though tonight's meeting was moved to Riverview School in apparent anticipation of the same sort of large crowd that has showed for other meetings where the issue was considered, tonight's meeting attendance was modest. Three people spoke during citizens comments.
The agreement will still have to be approved by the Salem Town Board to go into effect, Albrecht said.
A $100 fee per medical transport that would have been charged and kept by the village was removed from the agreement approved tonight, Albrecht said. The only fee village residents will pay will be those charged by Salem Fire/Rescue.
The agreement has a two-year out, at which point either of the parties could cancel. Otherwise, the agreement will run until 2025.
Eventually, the Silver Lake Fire Department will cover part of Salem north of the village for fire protection as part of the agreement between the two municipalities.