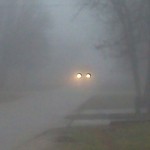 We're not done with the fog.
The National Weather Service has extended a dense fog advisory for our area until 10 a.m. Light winds and low level moisture are creating the favorable fog conditions. Winds are expected to pick up later.
The high temp today should be 39. There's a 50 percent chance of mixed precipitation.
A flood watch continues for the Fox River at New Munster. At 4 a.m., the river was at 8.92 feet at the New Munster gauge. Flood stage is 10 feet. The current forecast calls for the river to crest at 11.8 feet sometime Tuesday.