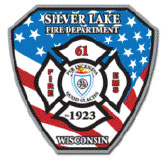 The Silver Lake Fire Department will be hosting a pancake breakfast at the Fire Station 113 S. First St., Silver Lake, on March 23, from 7 a.m. until noon.
Served will be pancakes, sausage, eggs, strawberries, coffee, hot chocolate, milk (white or chocolate). All you can eat for only: Adults $7 (12 and up); Kids (5-11) $4; Under 5 free.
The event will also include fire truck tours,  fire safety tips and 50/50 and prize raffles.
The fire department asks you to support their efforts to raise funds to replace equipment needed to serve you and your community better.