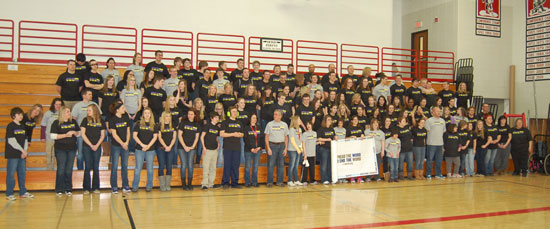 About 100 students and staff at Wilmot Union High School participated in today's drive to Spread the Word to End the Wordâ"¢ today.
What word? The R-word. Retard(ed).
The students and staff raised awareness for their cause by wearing t-shirts that said "Spread the Word to End the Word." They were part of a nationwide effort sponsored by Special Olympics and Best Buddies coordinated to take place today, said Tracy Carlisle, a Wilmot teacher who helped coordinate the event.
Participating students also signed a banner that will be displayed in Stevens Point during a Special Olympics Track and Field meet later this year, said Marcia Nolan, a special education staffer at Wilmot.
Some of the student participants I spoke to, like Heaven Podgorski, Hope Miller and Briana Vescova, said they were motivated to participate because of relatives and people they knew who have developmental disabilities.
Others did not necessarily have family members with intellectual disabilities, but they were still bothered by the loose use of the word.
"I hate when I hear people use that word in the wrong way," said Kiana Vasquez. "I've already yelled at a lot people" who use the R-Word.
"I just always hate when people use that word," explained Lindsey Orre. "I just think it's inconsiderate."