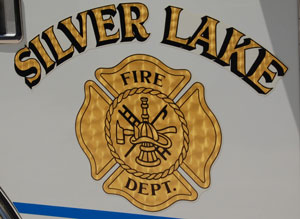 The Silver Lake Village Board Wednesday night took the anticipated step of going from a points system of pay for firefighters to an hourly wage.
The change has been anticipated since late last year.
Firefighters will be paid $8, $9 or $10 per hour depending on their level of certification, said fire Chief Andrew McFarlane. Forty hours per week has been budgeted along with 18 hours of paid on call time.
The board revised a village ordinance in order to execute the change. It passed unanimously with Trustee Michael Decker absent.
The fire department was also the subject of several questions from resident Colleen Dykstra during the meeting.
Dykstra started out her questions with asking why typical policy for hiring village employees was not followed for the fire department. She contended the positions were not publically posted or advertised, for example.
Village President Jeff Albrecht explained that the fire department has its own hiring policy, which was followed when hiring hourly firefighters from within the department. All new hourly firefighters were hired from the pool of fire department members, McFarlane said.
McFarlane said new members of the department file an application, submit a resume, submit a background check (which is then checked by the police department) and are drug tested. They also are interviewed by seven officers.
Dykstra asked if taking fire department vehicles home was allowed. McFarlane answered no but when Dykstra brought up a specific recent instance, McFarlane said he did approve a firefighter taking a department vehicle home in that case. After some discussion, Albrecht said he felt the incident should be looked into further.
Dykstra also asked about the duties of firefighters manning the station. McFarlane said that besides answering calls, firefighters manning the station have about 6.5 hours of work to do checking and cleaning equipment.
"This is ensuring that your truck, your tax dollars, will get out the door," McFarlane said referring to the regular running of the trucks, pumps etc. that firefighters manning the station are now doing. "I don't know how many times I would sit in a Village Board meeting and hear that the trucks are shiny and you'd go out there and they re filthy. We're hoping by doing this that our maintenance budget will be cut in half."