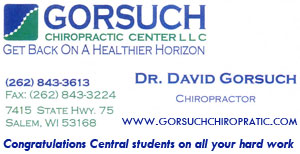 Note: This post sponsored by Gorsuch Chiropractic

Central High School has announced its honor roll for the second quarter of the 2012-13 school year.
Freshman
Straight As — Clara Kevek, Eddie Korando, Alyssa MacKinnon, Zachary Wermeling, Brianna Wolkober, Lucas Wysiatko.
High Honors — Savannah Acosta, Adam Aker, Andrew Allen, Elaine Andersen, Luke Andrekus, Graham Andrews, Travis Artac, Kasey Bakutis, Rachel Barthel, Logan Billman, Shannon Bozman, Nikolai Buchman, Sophia Calzavara, Joseph Cambroni, George Capelli, Katie Castle-Wisman, Anna Chandler, Dylan Clements, Delaney Coomans, Hollilina Coppelman, Kathryn Durkin, Autumn Elfering, Justin Engberg, Rachel Fish, Jake Gehrke, Jonathan Groleau, Alena Hanson, Skyler Hardy, Jacob Hebior, Hattie Heller-Cavener, Christopher Hill, Jared Holloway, Matthew Holloway, Emma Howard, Nicole Jackson, Julia Jester, Kenzie Keena, Samuel Keller, Kayla Konwent, Hannah Kunce, Ryan Laffin, Jacob Lampada, Jillian Lardinois, Megan Lau, James Manring, Natalie Massie, Amanda Maurer, Courtney McFeters, Bree McKenna, Kaylee McNamara, Julia Mellor, Victoria Menken, Mackenzie Meyers, Elizabeth Moat, Cole Nichols, Ndolo Nkabyo, Adam Papendick, Jacob Parson, Pooja Patel, Hanna Perona, Dominic Pham, Sarah Post, Monica Rasch, Olivia Rasmussen, Alexandria Reeves, Heather Richards, Aaron Roloff, Tyler Salzeider, Jordan Schoff, Jaret Schroeder, Ana Schuerstedt, Paul Schulz, Seth Seybert, Andrew Shane, Olivia Simmons, Zachary Smith, Jennifer Sparks, Jerame Tooman, Jenna Trione, Abigail Vanderhoef, Natalia Vignieri, Anna Walther, Taylor Washack, Schmuel Zuriel.
Honors — Ashleigh Ackerman, Carlee Arciszewski, Madeline Asma, Tanner Asplund, Colton Augustyn, Lexie Biggs, Samuel Blankenship, Griffin Bollendorf, Karla Bryzek, Ethan Buccelli, Katrina Cain, Christian Caldwell, Kamdyn Christiansen, Eric Corbett, Alex Daniels, Savanna Danoski, Tristan Deegan, Kristina Dipasquale, Jordan Easthon, Nathan Ellerbrock, Zachary Farnsworth, Gabryelle Fisher, Nathan Forsberg, Reagan Friedrich, Zoe Friedrich, Chandler Gilbertson, Bradly Gillmore, Emma Goldberg, Jon Golm, Richard Gridley, Jessica Griswold, Austin Hehn, Mitchel Holmes, Taylor Isfan, Brian Johnson, Samantha Kanaba, Daneil Knottnerus, John Kollross, Zachary Kollross, Emma LaForge, Conor LaRoche, Hannah Lampada, Madisyn Larsen, Macy Lux, Jake McGovern, Zachary Millhouse, Alexis Moroniak.
Sophomores
Straight As — Brett Ashmus, Nicholas Bielski, Madeline Brown, Brooklyn Carlson, Abigail Kimpler, Rebecca Lamp, Madeline Murphy, Ashley Ortloff, Francesca Przlomski, Megan Sippy.
High Honors — Leslie Abel, Julia Alberth, Jonah Arbet, Madeline Artac, Ashley Barningham, Trevor Blaschke, Courtney Bockrath, Victoria Borchert, Brianna Bostanche, Penelope Bremner, Jordan Bruley, Cali Buchino, Danielle Bykowski, Sullivan Cain, Benjamin Carter, Monica Ceisel, Sarah Cheney, Kelly Corkins, Douglas Danielson, Cody DeHamer, Ryan Edquist, Gerald Ehr,Robert Ehr, Sarah Fallon, Grant Fischer, Haley Fliess, Marshall Gilbert, Nicole Ginnow, Benjamin Gravely, Bryan Griffey, Melissa Hauner, Cory Hauser, Hunter Hermes, Heidi Holmstrom, Hailey Houtz, Dalton Karow, J. Evan Kirsch, J. Mitchell Kirsch, Michael Krueger, Savannah LaBoy-Rodriguez, Melissa LaMeer, Lucy Landaeta, Ty Lane, Rebecca Lawrence, Nicholas Leopoldt, Shania Lindsley, Erik Mast, Jacklyn McClain, Jaela McGill, Shelby Miller, Kathryn Neave, Luke O'Neill, Noah Poppe, Kyle Racas, Sarah Ratliff, Angelica Reeves, Mina Refla, Maria Sabourin, Maria Salerno, Holly Schaal, Megan Scott, Brianna Shane, Alyssa Sokolski, Madeline Spain, Katherine Springer, Danielle Stachura, Madison Stanczak, Evelyn Swatkowski, Steven Switalla, Claire Thompson, Irmalicia Trevino, Emily Turk, Melanie Uhlenhake, Jessica Vela, Donovan Ware, Courtney Weber, Andrew Weis, Justin Wermske, Julia Williams, Kaitlyn Williams, Michael Yule.
Honors — Michael Adamczyk, Pamela Anderson, William Bablitz, Samuel Baer, Steven Baer, Adam Barningham, Britteny Berry, Cullen Black, Leah Blair, Lucas Blair, Scott Blume, Kayte Bridger, Natalie Capelli, Brittiny Carlson, Nashton Christiansen, Kennedy Clanton, Morgan Clark, Mikayla Cloherty, Samuel Colletti, Zachary Culbertson, Sabrina Davis, Christopher Dawley, Hunter Deakyne, Ashley Derflinger, Gavin Ellerbrock, Anna Finnemore, Kyle Foulke, Sarah Frederick, Jaymes Gayhart, Kelsey George, Kaitlyn Gorsuch, Erik Greenlee, Alex Hamilton, Daniel Hebior, Devin Hernandez, Ryan Hill, Brittany Horner, Abigail Hucker, Benjamin Keller, Haley Krueger, Gregory Kuhfuss, Jarret LaPlant, Christian Lamey, Lucas Leydens, Kevin Lourigan, Madison MacIsaac, Cole Maier, Olivia Matushek, Shane McNealy, Donelle Meyer, Jordan Meyers, Jeffrey Palmer, Rheanna Pieroni, Phylicia Quiroz, Maria Regalado, Raven Renje, Mindi Richards, Raquel Rivas, Jon Sattersten, Claire Schlosser, Cameron Schneider, Mikayla Shannon, Abigail Slutsky, Craig Spittle, Alexander Stockwell, Brianna Sweeney, Rue Swift, Joshua Teumer, Abby Trost, Jordan Turcotte, Mattie Weber, Kayla Weidner, Matthew Young, Paige Zeoli, Colin Zinngrabe.
Juniors
Straight As — Mackenzie Bevry, Sarah Burmesch, Renee Culbertson, Irene Esteban Avendano, Austin Feeney, Trevor Foster, Jarrett Freels, Kalyn Gackowski, Emily Green, Michael Hibbard, Skyler Karow, Kurtis Nydahl, Siddharth Patel, Nicholas Salerno, Kierstin Sorensen, Kathryn Swatkowski, Danielle Tesar, Megan Ziesmann.
High Honors — Nazim Ahmedi, Rachel Aker, Garrison Asma, Megan Barton, Taylor Bergles, Jessica Bergmann, Zachary Biehn, Joel Blomen, Adria Bollendorf, Melisa Buszta, Elizabeth Carlson, Jeremy Cavil, Sean Cavil, Allison Clements, Aaron Clifton, Taylor Conrad, Rachel Crews, Robert Cuba, Bailey Dahms, Keeley Denton, Thomas Dietz, Frieda Dowell, Kristen Edgar, Benjamin Ehr, Stephanie Eide, Hannah Erickson, Madeline Erickson, Jessica Esch, Theresa Felchuk, Madison Fenske, Kristen Fiegel, Savannah Floore, Brooks Gahart, David Gerou, Vanessa Gonzales, Tyler Gorsuch Cheyenne Grant, Alexander Gray, Nathan Gunderson, Jordyn Hameau, Halie Hart, Kristin Hensely, Bradley Hole, Leah Holloway, Rachel Horst, Kari Husenica, Ashley Jehlicka, Megan Jehlicka, Hailey Jester, Jessica Jolly, Glenn Karsten, Destiny Kent, Tayler Kessler, Jasmine Kettledon, Seth Kopczynski, Natalie LaForge, Alexis Lamp, Alexander Landry, Larkin Langston, Samantha Lombardo, Todd Lourigan, Zachary Manon, Jessica Matthews, Alicia Mitchell, Erick Nielsen, Benjamin Ollila, Tessa Olson, Tiffany Ouwerkerk, Miranda Page, Alex Parys, Austin Paskey, Emilio Perez, Trevor Peterson, Christina Pitts, Danielle Rampart, Rachel Ramsak, Jack Ray, Jessica Reiners, Joanne Reiners, Margaret Rynkiewicz, Briana Schoenke, Catherine Schroeder, Lacie Schroeder, Kallie Shramek, Holley Swanson, Kaitlin Terwall, Alexandra Thompson, Ian Thrasher, Amber Ukkonen, Kelsey Welsch, Lucas Werth, Amie Winfield.
Honors — Wyatt Ackerman, Amy Andersen, Justin Barney, Kyle Beaumier, Danielle Bentel, Alyssa Beth, Cassity Beth, Sarah Beucher, Christian Billman, Leah Birch, Kristin Blume, Roger Bock, Gwyndol Boyd, Ashley Brennum, Tyler Brown, Eduardo Cabrera, Emma Calzavara, Maxwell Carey, Jennifer Childers, Franklin Cushman, Hannah Davidson, Adam Delisi, Jonathan Dyson, Katelynn Esteb, Haley Feldmann, Elizabeth Fonk, Christopher Frackowiak, Briana Frank, Sabrina Franks, Monica Frost, Troy Garlock, Noah Grimm, Lindsey Hager, Nicholas Hanson, Randy Hogan, Caroline Holverson, Anthony Iwen, Kyle Krause, Tyler LaCombe, Clayton Lois, Jesse Luhn, William Mazurek, Cody McFeters, Edith Medina, Morgan Meyers, Samantha Mickelson, Amber Nelson, Rae Lynn Niles, Alyssia O'Dell, Emily Olson, Nicholas Picchietti, William Pitej, Ashley Post, Cody Pries, Maria Rasch, Morgan Rau, Madalyn Reynolds, Melissa Rossi, Mariano Ruffalo, Megan Ruxton, Kimberlee Ruzicki, Tyler Schwab, Kevin Shane, Jake Sheeran, Erica Silberschmidt, Mariah Starr, Olivia Tooman, Maxwell Tracy, Aliyha Willis, Colleen Wolfe.
Seniors
Straight As — Brittney Blazich, Lauren Bostanche, Hunter Carlson, Ana Maria DiPersio, Zach Keller, Grant MacKinnon, Anthony Muscarello, Corey Perona, Grant Perschke, Tyler Stoxen, Liliann Teister.
High Honors — Samantha Albright, Steven Bailitz, Samantha Bartelt, Kate Beth, Helena Biehn, Nicholas Bielski, Devin Brick, Anna Brooks, Ashley Bundick, Isaac Cech, Ethan Costello, Joseph Crane, Madison Damaschke, Danielle Damask, Dana Drozek, Catherine Edwards, Victoria Einhorn, David Finnemore, Karly Fish, Linda Flahive, Sarah Fonk, Austin Gillmore, James Gorsline, Sterling Grawe, Loreen Greenwell, Dakota Grimm, Sylvester Hampton, Susanna Harewood, Laura Henne, Savanna Henningfield, Cassidy Hepp, Lauren Hickson, Sarah Horton, Morgan Ineichen, Michelle Iwen, Grant Jahnke, Matthew Karas, Dori Keppler, Jesse Koenig, Hannah Koeppen, Mark LaMeer, Kevin LaRoche,Troy Ladd, Charles Lamp, Brentley Larsen, Jamilee Leibforth, Bethany Massie, Jackie McDonough, Autumn-Storm McFaul, Margaret McMullin, Luke Millhouse, Taylor Naef, Annika Nielsen, Myles Nieze, Sidney Onstad, Eric Ottmann, Justin Perez, Courtney Pfeiffer, Harrison Pham, Annaliesa Potter, Hope Quagliano, Lorena Retana, Emily Roe, Zachary Roloff, Kasandra Sauls, Meghan Scanlan, Ashley Schmidt, Joseph Schwall, Shelby Shumaker, Hunter Spain, Gregory Springer, Morgan Szarfinski-Clark, Sarah Tentes, Jeffrey Teumer, Trey Thompson, Paul Toomey, Megan VanBuren, Timothy Vanderwerff, Joseph Walsh, Mollie Wang, Jacob Weidner, Kelsey Welter, Michael Werth, Julie Whelan, Aslyn Wolcott, Nathaniel Yarger, Amanda Young, Jennifer Zamora.
Honors — Benjamin Aker, Colleen Anderson, Dakotah Armbruster, Kyle Ashmus, Caitlyn Barrett, Joseph Beach, Corbin Bevry, Devin Bockrath, Riley Bohr, Alyssa Bur, Cody Burns, McKenzie Clanton, Taylor Clark, Dustin Coleman, Eamon Cook, Taylor Davidson, Emily Davila, Shannon Dawley, Mitchell Denman, Timothy Edquist, Lauren Fliess, Sarah Fox, Jesse Franks, Joseph Glas, Michael Hall, Samantha Hart, Emily Heiny, Mason Herolt, Regan Hess, Julia Hodnik, Jordan Jacobson, Sydne Johnson, Travis Knudsvig, David Kopczynski, Austin Lengvenis, Thomas Lourigan, Delany Mazurek, Kayla Menarek, Carol Neighbors, Ryan Nowotarski, Alexander Page, Joshua Parson, Jessica Paulaski, Alfred Pompei, Tara Rahman, Kassidy Redfern, Matthew Scanlan, Erick Sherwood, Tyler Sorensen, Craig Spangler, Brandan Stepro, Joshua Stockwell, John Szymanski, Harpreet Toor, Stephanie Uzzardo, Jordan Wallem, Jake Weis, Megan Wermske, Maxwell Wesner, Nicole Wienke, Kody Willkomm.