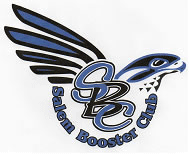 The all volunteer organization that ensured Salem School students would still have sports and clubs after the school district could no longer fund those activities will "phase out" by the end of the school year.
The Salem Booster Club apparently has no plans to continue for next year in some new role when the school district will again be funding and administrating sports and clubs, according to a statement released by booster club officers this weekend.
The entire statement reads as follows:
Since the taking back of sports by Salem Grade School, the Salem Booster Club will be carrying out our functions, and then phasing out by the end of the school year. The Booster Club will be there to help in the transition as well and making it smooth. The Booster Club has been honored to have been able to carry on with the Clubs, and Athletics. We felt we had to do something after the Referendum failing, for the children's sake. We could not let everything be taken away from the children that wanted to have these activities- as the children before them had. So we felt we needed to step in-which making a long story short was the birth of the Salem Booster Club-which kept the Athletics, and added after school Clubs.. While being very successful- we would not have been if not for our Board members, including the ones who have served and moved on, Coaches, and Volunteers who have given up so much of their time, and dedication we could not have done it without you all, and we Thank you so very much!!! We also would like to thank the Office Staff, and key Faculty support, and the support of Dr. Milz, and Dr. Bruton.. We wish all the best in the future, and to know that everything is back where it should be to bridge the gap between Students, Teachers, and the School. It has been an honor, and thanks to all who have helped make the Salem Booster Club very Successful.

Angela Mazurek-President and Co Athletic Director
Amy Bell-Vice President
Chris Bucko-Treasurer
Cheryl Sieberth-Secretary
Allison Dreager-Clubs Director
Corey Dawley- Athletic Director
The Salem School Board voted at its last regular meeting to reinstate funding for sports, clubs and summer school. Sports and clubs funding was cut in 2009 in the wake of four failed referendums for increases to the tax levy. The booster club formed shortly after as an independent and all volunteer organization to fund and administrate clubs and sports, which it has done each school year since.