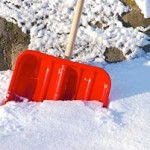 We measured an additional 3 inches of snow overnight here at westofhtei.com headquarters in Paddock Lake. That's a total of 7.75 inches we measured from 1 p.m. Tuesday to 5:30 a.m. this morning.
And it's not done! The current National Weather Service forecast says we could get another 1 to 2 inches of accumulation today and another inch tonight.
The winter storm warning is in effect now until noon.
This snow is wet and heavy. Take it easy while clearing the driveway or walks.
Despite the snowfall, Western Kenosha County schools are open.