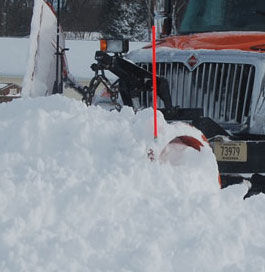 Salem has declared a snow emergency effective in the town until further notice.
During a declared snow emergency:
Parking of vehicles. (1) After the declaration of a snow emergency, no person shall park any vehicle at any time, night or day, on any public street, road or highway within the Town. Any vehicle parked upon any public street, road or highway within the Town may be removed by the Town and stored in public areas to be designated by the Town Board or suitable private facilities maintained for storage of vehicles. (2) The owner of any such vehicle removed by the Town shall be responsible for all towing and storage costs, which shall be paid before the vehicle is released to the owner, together with any forfeiture as set forth herein.

D. Moving snow into streets. No person shall clear snow from lots, parking areas, driveways, filling stations, garages, commercial areas or other places and pile or redistribute such snow in any public street, road or highway within the Town in any manner which in any way tends to narrow, restrict or obstruct travel or block the vision of motorists or in any way create a traffic hazard or impede snow removal or plowing of such public street, road or highway in the Town. Editor's Note: See also Ch. 456, Streets and Sidewalks, § 456-5D, regarding prohibited placement of removed snow.

E. Penalties. Any person who shall violate Subsection C(1) or D of this section shall, in addition to the costs of removal and storage of vehicle, be subject to the penalty provided in § 1-4 of this Code.