Note: This post sponsored by Mielke Stair Company LLC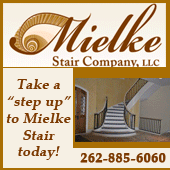 Riverview School has announced its honor roll for second quarter of the 2012-13 school year.
Grade 6
High Honors: Riley Alexander, Alyssa Baillie, Sophia Bormann, Victoria Bormann, Kevin Brenner, Stormy Grumbeck, Ella Harper-Schiehl, Sarah Hinrich, Kevin Kessel, Haley Lamberson, Zachary Lamberson, Mason Moravectz, Kylie Ott, Noelle Ridolfi, Ambriel Siggeman, Emily Wagner, Cassandra Wilber, Jaeden Zackery.
Honors: Joshua Van Kampen, Amber Banish, Bryanna Bunch, Alexander Burgos, Cole Chism, Liam Cowand, Preston Eide, Neve' Miller, Joshua Moldenhauer, Marley Powell.
Honorable Mention: Samantha Ballering, Abigayle Barman, Kolby Moudy, Ian Peterson, Kiya Thompson, Anthony Whiteyes.
Grade 7
4.0: Cameron Wischnowski.
High Honors: Alyson Baker, Ashlyn Brey, Andrew Christensen, Andrew Colletti, Ava Detlaff, Kyle Gendron, Quintin Girardi, Teagan Holland, Rachel Jenkins, Brandon Keller, Morgan Korus- Stone, Emma Kube, Benjamin Opelt, Joshua Peterson, Brenna Simmons, Zachary Strasser, Ethan Straub.
Honors: Darin Bruski, Ethan Dahlen,Emily Heckel, Augustin Horak, Emily Keil, Kyler Moudy, Wyatt Owen, Mason Scervo, Jack Stoppenbach, Alex Willemarck.
Honorable Mention: Adrianna Bergeron, Danielle Clark.
Grade 8
High Honors: Rebecca Brewer, Kieran Cowand, Jack Faber, Zoe Glass, Brianna Olsen, Ian Peyton, Alexis Punzel, Clarinda Sellers, Tayla Simek, Deja Simpson, Brittany Vogt, Kathryn Wagner.
Honors: Kendall Arenas, Lauren Bainter, David Faber, Mitchell Flaherty, Troy Hickey, Haven Hill, Ryley Orszula, Ryan Ott, Samuel Rovik, Brenna Strandberg, Hannah Torstenson.
Honorable Mention: Austin Breit, Shannon Couch, Gorden Edgerton, Megan Faber, Logan Jones, Anna-Paige Leptich.