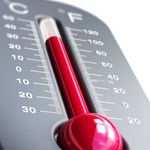 Sometimes it seems like the National Weather Service has an advisory, alert, warning or watch for just about every dramatic weather event possible.
But I think they need a new one. Something like a huge temperature swing warning-alert-whatever. It would be very apt for what's forecast to happen between today and tomorrow.
Right now, at about 3:20 p.m., the temperature (as measured at Kenosha Regional Airport) is 49 degrees.
Tomorrow's high in the current forecast? 18 degrees.
In between it seems pretty certain that rain from the sky will add to the moisture everywhere on the ground already from the rapidly melting snow. There's a 100 percent chance of rain before 8 p.m., which may turn to snow after that. New snow accumulation of less than a half inch will not even cover that dormant grass that was exposed in your yard today.
The NWS is also keeping an eye on some snow that we may get on Thursday.