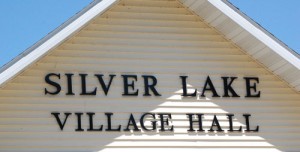 At tonight's Silver Lake Village Board meeting, two discussion items were tabled due to the absence of Jeff Albrecht, the village president.  He was out of town, according to Terry Faber, the clerk-treasurer.  Trustee Sue Gerber presided over the meeting in his absence.  Gerber said that, due to the ethics issue concerning herself and two other trustees (David Snow and Michael Decker), the two agenda items should be tabled until the issue is settled.  The two items were the approval of the Fire Department salaries and the draft ordinance for salaries.  Citizen Roger Johnson said that he didn't think the board should be voting on these issues tonight due to the three trustees with ethics complaints against them.
Trustee Sotiria Wilber made the statement that it's not fair to the fire fighters.  "We all agreed back in December.  They should be based on what the board agreed to in December."  However, Trustee Pat Dunn stated that, if the three abstain, there would only be three left to vote.  At least four are needed to vote.  Trustee Cyndy Schwebke said that the fire fighters continue to be paid by points.
Citizen Roger Clark stated that, according to his calculations, there is not enough money in the budget for the fire fighters' salaries.  "Eleven hours a day at $10/hour, that's $220 a day, times five equals $1,100 a week, times 52 equals $57,200 for the year.  The budget is $48,000.  This is voodoo math."  He further stated that "the Salem proposal for paramedics should be voted on by referendum, and not judged by a few trying to push through a budget item."
Clark also mentioned that he read in the paper that Bristol hired three full-time fire fighters at a cost of $186,000.  They are being provided by a private company, and they will be working 24 hours on, and 48 off.  Clark also wanted to know if an audit was being done on the Fire Department, and if they were registered with the state.
_____________
Other topics discussed at the meeting included:
Employee Handbook Updates – All proposed changes were unanimously approved, except for the official correspondence letterhead, which was tabled until the next meeting;
Purchasing Policy Ordinance Amendment – First Reading – Three bids for any purchases over $2,500 was approved.  Wilber stated that "this is merely putting in writing what we already do."
Vehicle Code Ordinance Amendment – First Reading – Trustee David Snow stated that this was being revised to adopt the state guidelines.  It was also approved unanimously.
Arctic Baggo Tournament – The date was changed from March 9th, 2013, to March 2nd, 2013, with a rain date of March 9th.  The tournament will still take place at Schmalfeldt Park.  The Fire Association still needs to submit an application for the liquor license.  There was also discussion about the liability insurance.  Wilber said that anyone who acts under the umbrella of the village or on behalf of the village is covered.  The board needs to decide if the Association is working under the village or is its own entity.  Further discussion is needed.
Agreement with Absolute Testing, LLC – The agreement was approved unanimously.  This is a random drug testing program, required by the Department of Transportation (DOT) for the Public Works employees.
Committee Reports
Finance, Legislative & Admin. Committee – Roger Johnson  had asked about the FEMA reimbursement.  The amount paid was $9,605.70, and the amount received was $7,510.02.  Johnson then said, "Then, your literature lied.  I didn't spend $9,000 of the taxpayer's money.  We got some of it back."
Police & Judicial Committee – Snow reported that there were 122 calls in January.  The new car is here and running.  Three separate car repairs totaled $273.  He also commented that he's pushing the Deputy Friends poster competition, but he couldn't find the paperwork.  He will make copies and place them in the trustees' mailboxes.
Public Works & Buildings – Dunn reported that Johnson had asked for numbers at the last meeting.  Faber read the numbers:  $52,040.62 was the total for the general fund.  There were four invoices for surveying parcels, $295, $225, $325, and $325, bringing the total down to about $50,000.  The sewer account total was $1,779.60.  The storm water engineering total was $14,278.57.  Therefore, as of the end of December, greater than $60,000 was spent by the village on engineering fees.  Johnson said that he thought that was lots of money.  He stated that he contacted other municipalities, and they agreed with him that that amount was "totally ridiculous.  You shouldn't have to bid everything out," he said.  Dunn stated that they weren't going to argue over it.  He said that Johnson got his numbers.  Johnson's final comment was, "I betcha there's more."
Alan Brierson said that he read in the minutes about the Police Department, and he wanted to know if they were moving out of the building.  Snow said no, that a doorway was being built to secure the office for the safety of the workers.  Plus, it's a state mandate.  Brierson said that he thought that was a legitimate concern.
He also wanted to know how much the installation of the stop sign was going to cost.  Wilber said that the stop sign cost was $1,200.  Dunn said that they were working with Public Works on it.  Brierson said that normally, there would be a 'not to exceed amount' on a motion.  Stop signs were being installed due to public complaints and close calls for accidents.
Parks, Public Lands & Library – Gerber reported that the Easter Egg Hunt was going to be held at Tots Park on March 23rd, 2013, at 11 am.  The library is in a holding pattern; they are awaiting an estimate on the structural issues in the basement.  There will be further negotiation and discussion with the Library Board.
Faber was asked when the audit would be.  Tomorrow, Faber said that the auditors were stopping by to pick up some papers.  Will they be auditing every department?  Yes, they will.
General Welfare – Decker said that the Wisconsin administrative codes were done.  Faber had them ordered.  Even though it's not permit season, they have sold eight permits thus far this year, for a total of $378.