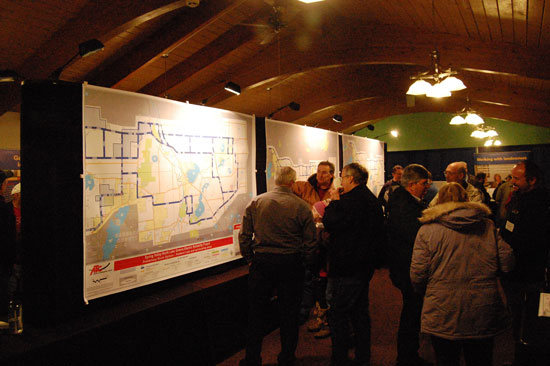 An open house informational meeting on a proposed 138-kilovolt electrical transmission line from southern Walworth County to western Kenosha County drew a sizable crowd Wednesday afternoon.
About 160 people had attended the meeting, held at Christ Lutheran Church in Paddock Lake, in a little under its first three hours, said Mary Carpenter, local relations representative for American Transmission Co., which is proposing building the line.
The project will connect an existing substation in Bristol on 98th Street with a substation in southern Walworth County. The project also seeks to build a new substation in the Twin Lakes area. According to ATC:
Studies indicate that the estimated $80.6 million project would deliver benefits to the area by strengthening the electric transmission system to meet the growing use of electricity. The electric transmission system is vulnerable to low voltages and power outages and will no longer adequately support the lower-voltage distribution system. This project will provide system redundancy and allow for maintenance outages to equipment and facilities when repairs are needed."
People that attended the open house Wednesday, and another that was held in Lake Geneva Tuesday, were able to view detailed maps of possible routes and talk with ATC representatives. Refreshments also were served.
Eventually, ATC will have to identify two proposed routes. Right now, there are a lot of options on where the lines could go, said Carpenter. And where the lines will be located is typically people's chief concern, which is hard to address right now.
"It's too early in the process," she said.
But that didn't stop people in attendance from scrutinizing the possibilities, especially when lines came near their property.
Ed Antaramian is a Randall resident who was at the open house. One of the proposed routes runs along a roadway in front of his property and then takes a turn to run through a neighbor's property. He had a number of concerns, including the health effects of the energy moving along the lines, hum from the lines, aesthetics of the poles, possible interference with local airports and lost trees and land for right of way.
Bob Gehring, another Randall resident and a member of the Town Board, also was at the meeting. He said the most common concern he has heard from constituents is safety, followed by aesthetics. A farmer by trade, Gehring said the 85 foot tall towers for the line could be significant obstacles for modern farming equipment to work around. He also feels there may be some health concerns for locating dairy cattle too close to the towers.
Personally, Gehring said he is suspicious of the timing of the project
"What's the need?"  Gehring asked, in light of the sluggish economy that has virtually stopped local development.
Ed Simpson's concern about conflict with airports is not just a casual concern. He is the owner of Camp Lake Airport, on Highway AH.
Simpson said he is concerned that some of the proposed routes for the lines will interfere with the operation of his privately owned public airport. Currently, his facility is available for small aircraft to use without a landing fee to serve as a resting point.
After attending Wednesday's open house, Simpson said he feels a little better because there do appear to be alternatives that will not interfere with the airport.
The Trevor-Wilmot School District had several representatives present including district administrator George Steffen and school board members Tom Steiner, Cole Marshall and Bill Barhyte.
Steiner said the school is keeping an eye on the project since some of the proposed routes would go down Highway C in front of the school. At this point, the district does not have a formal position on the project, but officials are gathering all available information.
Based on the gathered public input and  other factors, ATC officials will next be narrowing down the many possibilities presented this week to two proposed routes. Another round of public information outreach will be held at that time, Carpenter said. That could will happen sometime between now and summer 2013  later this year. (Note: I was contacted by ATC about my original wording here and asked to state later this year, instead of the timeline I originally reported, which was from the timeline on the ATC website. When I asked for more specifics, Alissa Braatz, of ATC Corporate Communications, wrote: "We intend to host another round of open houses, later in 2013. We cannot yet say with accuracy if it will be September, October or November; however, as we move through the routing and siting process in the coming months – we will know more. Potentially impacted landowners will receive newsletters from ATC updating them about the project – and invitations for the second round of open houses will be sent two weeks in advance of those open houses. Of course, we'll update our website too throughout the coming months so it's good to keep checking there." — DH).
More information from ATC about the project is available here, including maps and an interactive map. Carpenter's email address is also is available there, to which written comments about the project can be directed.
All comments received are read and will be part of the record that goes on to the Public Service Commission, Carpenter said.