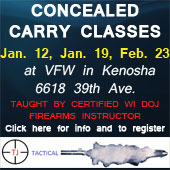 Note: TJ Tactical is a westofthei.com sponsor. — DH
TJ Tactical is currently offering classes to anyone who is interested in obtaining a Wisconsin Concealed Carry Permit. These classes are open to all skill levels.
The WI Concealed Carry Permit Class is taught to Wisconsin Department of Justice Guidelines.
Classes taught by certified WI DOJ Firearms Instructor.
For the basic Concealed Carry Permit class no shooting is required.
Concealed carry class is a 4 hour class which covers the training requirements that you need to obtain your WI Concealed Carry Permit.
Class participants will receive a certificate at the completion of the class which they will need to send to the state along with $50 to receive their Concealed Carry Permit.
Cost of class is $89 which includes all necessary class materials. A class is scheduled for Feb. 23 at VFW Post 1865 at 6618 39th Ave., Kenosha.
To register for a class click here or call  262-705-5641 or email TJTactical@ymail.com.