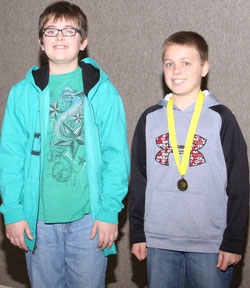 On Friday, January 11th, Randall School held Geography Bee Finals. Ten students, two students who qualified from each grade 4th-8th, moved on to this level. The school bee, conducted by seventh grade teacher Kelli Jo McGinley and gifted and talented coordinator Karen Reddin, is a nationwide program through National Geographic.
Randall School winners are: First place, Cody Faber, grade 8; Second place, Dominick Bellina, grade 6.
Cody Faber will continue with a written test to be submitted to National Geographic. His score will determine whether he moves on to the state level. Schools will be notified in March if he will proceed to the state level competition. The state competition will be held on April 5, 2013.