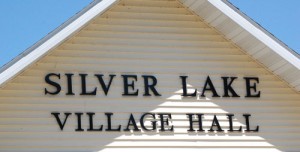 The Silver Lake Ethics Commission convened a meeting tonight on a Jan. 11 complaint against three village trustees.
In an about 30-minute meeting that started about 7 minutes late, commission members chose Larry Baker as chairman, read the complaint letter and a statement from village attorney Linda Gray about commission procedures and lastly discussed their next steps.
The complaint was filed by resident Ralph Jankovic. In his letter, dated Jan. 11, Jankovic charges that Trustee Sue Gerber has been improperly voting on matters regarding the village's contract with Silver Lake Rescue Squad Inc. because her son, Dan Gerber, is the private corporation's president. Jankovic see this as a conflict of interest. He also alleges that Trustees David Snow and Michael Decker acted improperly by meeting with Silver Lake Rescue Squad Inc. representatives without notifying village President Jeff Albrecht and/or Trustee Cyndy Schwebke, chairman of the Emergency Government Committee.
Jankovic is Schwebke's father.
Gray was not able to attend the meeting due to recent surgery. However, the village's ethics ordinance requires the commission to meet within 15 days of a properly filed complaint.
Baker said that there would be no public input during the commission's process, but comments from the audience of about 25 people broke out a couple of times.
Ultimately the commission decided first to focus on the complaint against Gerber. They agreed they needed more facts about when meetings and votes may have taken place and decided to gather that info from official minutes. They also agreed to review the village's ethics ordinance.
The commission set their next meeting for Jan. 31 at 7 p.m. at Village Hall. At that meeting, after reviewing the minutes and ordinance by themselves, they will come together and decided who they might like to interview in public at a future meeting.
If people will not appear at the meeting voluntarily, they can be subpoenaed, Gray said in her statement read at the meeting.
Commission members said they also wanted to have Gray preset in person or by phone at the next meeting.
"We will need legal guidance there's no doubt," Baker said.
The other commission members are Diana Kuyper and Marilyn Dahlen.