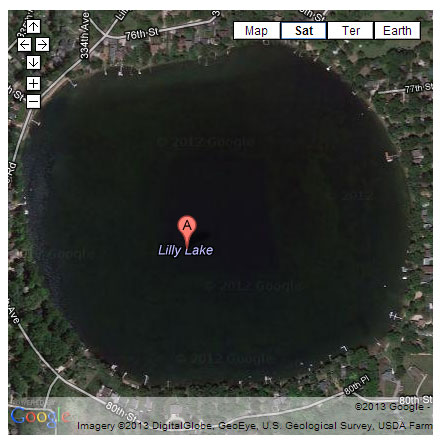 An agenda item for discussing recent motorcycling on the ice of Lilly Lake drew about 30 audience members to the Wheatland Town Board meeting Monday night.
But while there indeed was some discussion, there was no action that would put the matter to rest for this season. Instead,  town Chairman Bill Glembocki said he would prefer to work on an ordinance as a top priority of the new board to be seated after the April 2 election. The current board has one open seat after the death of Bob Herda on Dec. 7.
"There's nothing we can do this winter," Glembocki said. "There is no doubt in my mind by next season we'll have something in place."
With recent substantial ice on Lily Lake, motorcycles, using bikes with special spiked tires and other adaptations, have driven around on the lake mostly on weekends.
Some residents speaking at the meeting complained about the noise of the activity, which they characterized as much louder than boat and personal water craft activity on the lake in the summer.
Some of the motorcyclists were also present to defend the activity as safe and considerate of lake residents as far as noise.
Town attorney Jeff Davison discussed the process for enacting any regulation on the lake.
While there is some dispute as to who has authority over recreational activities on ice-bound lakes, Davison said his experience representing several municipalities is that the regional state Department of Natural Resources office feels the DNR has jurisdiction. Therefore, any law passed by Wheatland would have to be approved by the DNR as well. Davison estimated that to be a 60-day process.
Glembocki said that starting the process  in April he would like to have an ordinance passed by October, well before ice would typically be on Lilly Lake.
Supevisor Andy Lois said he was at the lake during a recent ice motorcycle outing and the sound made an impression on him.
"It was pretty loud," Lois said. ""I'm not against it but you've got to control it." He said he favored designated hours or days for ice motorcycling so others — like skaters and ice fishermen — could also enjoy the lake.
In the meantime, town officials encouraged both sides of the dispute to meet and see if they could work out something acceptable to each side for this season.
Here is video of ice motorcycling that reportedly was recorded on Camp Lake in Salem: