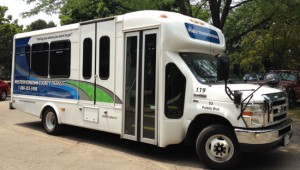 Some of the service marked for elimination in the Western Kenosha County Transit system is being restored, although with less frequency than in the past.
The system is now planning to have expanded regional routes that will travel between Paddock Lake and the Antioch Walmart on Monday and Wednesdays and between Twin Lakes and Lake Geneva on Tuesday and Thursday. The monthly pass and fixed route fare will be accepted on those routes.
In addition, Carolyn Feldt, of the county Aging and Disability Services Department, said demand response buses will be used to get people to stops on fixed routes so theycan use the above service. Those trips will be part of the fixed route fare as well. People will be asked to make an advanced reservation. When more expedient, buses on these routes might deviate some to pick up people near the actual route. An example from a meeting in Salem Wednesday was a resident who lived in Rainbow Lake Manor in Bristol along Highway WG who wants to go to Walmart in Antioch. Rather than use a demand response bus to take the person to the route's origin point in Paddock Lake, the bus would likely deviate while headed to Antioch to pick up that rider.
To help transit figure out the logistics, Feldt asked for as much advanced notice as possible.
A five-day-a-week fixed route between Twin Lakes and Southport Plaza Kenosha will remain. There also will be a weekday commuter trip to the Metra Train Station in Antioch.
The changes were made in the wake of reaction to the announced cancellation of the current five-day-a-week Antioch and Lake Geneva routes at a public hearing last month.
The transit service heard from riders who were depending on the targeted routes, Feldt said. Times and days were somewhat flexible, but not access to those destinations.
"They needed groceries, they needed shopping, they needed medicine," Feldt said.
Feldt said she appreciated the feedback at last month's hearing.
"I just want to thank everyone for asking for another public meeting after out hearing last month," Feldt said. "It's been good for us to have more time to think and meet again face to face."
"We heard from you fairly strong that you still want to be able to go to Lake Geneva on a regular basis and you wanted to be able to go to Antioch on a regularly basis," Feldt said.
Among the typical service goals, the transit system also would like to raise its profile, Feldt said.
"Our goal is that this is no longer a best kept secret,' Feldt said.
For the past five years,  Western Transit has been funded by a pilot rural transportation grant that provided 80 percent funding for a 20 percent local match. That pilot has expired, and the new grant will be a 60-40 percent match. Since the county's contribution from tax levy has to stay at about $40,000, that means the service will have about $150,000 less in operating funds in 2013, hence the service changes.