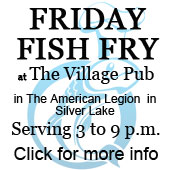 Note: The Village Pub is a westofthei.com sponsor. — DH
The Village Pub, located in the American Legion Building in Silver Lake, is offering a Friday Fish Fry.
Serving begins at 3 p.m. and continues until 9 p.m.
Full service begins at 10 a.m. on weekdays and 5 a.m. on Saturday and Sundays.
Looking to host a party? The hall is available for rent. In-house catering also available/ Book your party now by calling 262-889-8255.
The Village Pub at the American Legion Building is located at  307 N Cogswell Dr, Silver Lake, WI.