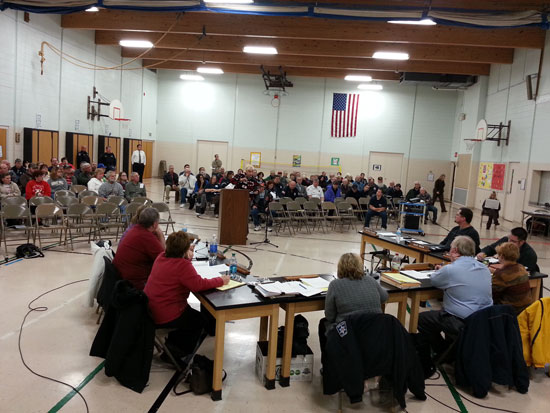 The Silver Lake Village Board rejected a contract with Salem Fire/Rescue for certain emergency medical services in a 4 to 2 vote tonight after a three-hour special board meeting.
Trustees Pat Dunn and Cyndy Schwebke voted for approving the contract while Trustees Michael Decker, David Snow and Sue Gerber and village President Jeff Albrecht voted against approval. Trustee Sotiria Wilbur was absent.
But the decision likely has little finality as Albrecht indicated after the meeting that he cast the deciding no vote in order to be in a position to move that the contract motion be reconsidered at a later date. To do so, he would have to be part of the majority on the vote on the motion. If he had voted for approving the contract, a position he had advocated for during discussion at the meeting, the vote would have been tied and neither side would have had a right for reconsideration.
Albrecht, who as village president votes last, had made the motion to approve the contract.
When I asked Albrecht after the meeting if he voted no in order to be in a position to ask for reconsideration he said "correct."
The vote came after a marathon session in which emotions started boiling over at the end. Police Chief Dan Kingsley came from the back of the room to the front as discussion got heated and village attorney Linda Gray characterized the proceedings as getting "out of hand" and asked for order.
Silver Lake has been considering discontinuing its long-standing contract with Silver Lake Rescue Inc. in favor of an arrangement with Salem Fire/Rescue for EMS with Silver Lake Fire Department firefighters acting as first responders on medical calls.
Silver Lake Rescue is a free standing entity while the Silver Lake Fire Department is part of the village government.
The village has been paying Silver Lake Rescue $27,000 a year for its services. In theory, the agreement with Salem could let Silver Lake keep the $27,000 it now pays to Silver Lake Rescue to bolster fire department funds.
Proponents of that plan said the fire department is in need of attention and funding or it might cease to exist in a few years time. Without its own department, insurance rates would likely increase for village residents.
"Silver Lake has had problems getting rigs out the door for emergency calls," Albrecht said "It's unacceptable to let a situation like this remain status quo without some effort to change it."
Some village board members contend that Silver Lake Rescue rebuffed invitations to talk about a merger, but rescue representatives say village officials have not been responsive to their concerns and questions.
Going forward, the additional funding from not contracting with Silver Lake Rescue would allow the village fire department to staff the station with firefighters during the day on weekdays. Silver Lake Fire Chief Andrew McFarlane also has devised a system for getting first responders from the fire department to medical calls at night and on weekends. If the contract were approved, Salem Fire/Rescue also would respond to those calls and provide paramedic service and transport as needed.
The contract with Salem would allow for Salem to bill patients for any services it rendered and keep those funds. There would be no charge to the village itself for the service.
Snow and Decker, both fire department members, argued for more time to consider the contract.
"I don't think it (the contract with Salem) is the only option," Snow said. "The weight of what happens to Silver Lake Rescue with this contract deserves to have a second look. I think we need to give (other options)  a second chance."
The meeting started out with about 30 minutes of citizens comments. Most speakers voiced strong support for the village continuing to contract with Silver Lake Rescue. Several called for no action until a referendum could be held.
"Do what you were elected to do,"  said former Trustee Chris Willkomm. "The people do not want this."
The agenda then called for discussion of a counter offer by Silver Lake Rescue. But Snow said there was no formal offer to present.
Albrecht then led an explanation of the study process that led to seeking the contract with Salem and had several other people speak to certain aspects of the process, such as Ad Hoc Fire Committee members and Chief McFarlane.
After lengthy — and sometimes testy — discussion among board members, Snow motioned for the board to table consideration of the Salem contract. That motioned failed when it tied — with Snow, Gerber and Decker voting for tabling and Schwebke, Dunn and Albrecht voting against.
The tabling vote had some provoked some angry reaction from some audience members when Albrecht, voting last, initially voted aye but then said he meant to vote no. Attorney Gray ruled that Albrecht clearly intended to vote no, despite his slip of the tongue.
The village's contract with Silver Lake Rescue ends Dec. 31. However, if no new contract is in place, Silver Lake Rescue will continue to provide services until the situation is settled, said Frank Gagliardi, the Rescue Squad's attorney.
The meeting was held at Riverview School because a meeting to be held last week at Village Hall with the contract on teh agenda drew such a crowd that the occupancy limit was exceeded. At its height, about 90 people attended the meeting.