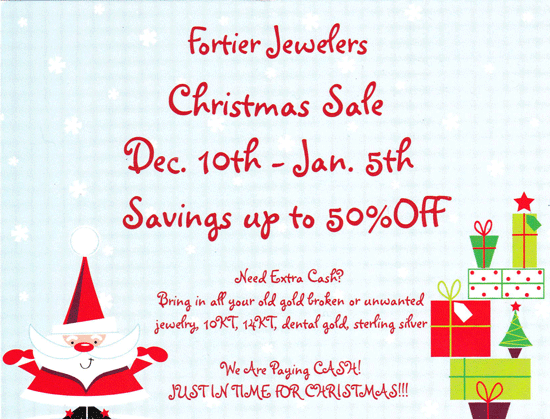 Fortier Jewelers, 1129 Main St., Union Grove is having a Christmas Sale from Dec. 10 to Jan. 5
There will be savings up to 50 percent off during this sale.
Need extra cash? Bring in your old gold, broken or unwanted jewelry, 10KT, 14KT, dental gold and sterling silver. Fortier is paying cash — just in time for Christmas!
With a $50 purchase, bring in a printed copy of this post and be entered into the Fortier Jewelers Jewelry Prize Giveaway! (Look for the Print this Post link at the upper left. If you don't see it, click on the headline first and then take a peek. This will give you a printer friendly copy.)
The sale excludes special orders, repairs, loosed stones, Citizen watches and sale table events.
Fortier has new store hours continuing through December: Mon., Tues., Wed. 9:30 to 5:00 pm; Thursdays 9:30 a.m. to 7 p.m.; Fridays 9:30 a.m. to 6 p.m.; Saturday 9:30 to 4:00 pm; and Closed Sunday. Phone: 262-878-9185.