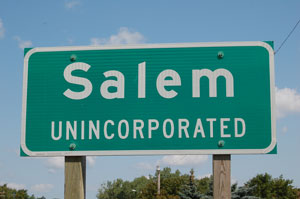 The Salem Town Board Monday tabled until January consideration of an agreement with Silver Lake for providing certain emergency medical services
Town Chairman Diann Tesar said she favored the tabling because she felt Silver Lake should act on the agreement first, since the village sought out Salem for the service. The tabling was approved unanimously by the Salem board.
However, the Salem board did discuss the agreement in general terms, which included some publicly new information about how such an agreement would work.
Salem Fire/Rescue Chief David Slover explained he would foresee an agreement that would have Silver Lake Fire Department providing first responder medical services at the Basic EMT level. Salem personnel then also would respond and provide further treatment as needed as well as transportation to a local hospital when needed.
By billing patients and their insurance companies for any services, Salem anticipates it could realize $15,000 to $30,000 in new revenue, town administrator Patrick Casey said.
Salem is proposing an agreement running through 2025 that could not be cancelled by either party until 2015.
Several members of Silver Lake Rescue, including Chief Bob Johnson, were in the audience.
The Silver Lake Village Board is having a special meeting Wednesday at Riverview School to consider the next step with the agreement.
Silver Lake has been considering discontinuing its long-standing contract with Silver Lake Rescue Inc. in favor of an arrangement with Salem Fire/Rescue for EMS with Silver Lake Fire Department firefighters acting as first responders.
Silver Lake Rescue is a free standing entity while the Silver Lake Fire Department is part of the village government.
The village has been paying Silver Lake Rescue $27,000 a year for its services. In theory, the agreement with Salem could let Silver Lake keep the $27,000 it now pays to Silver Lake Rescue to bolster fire department funds.
Johnson said Silver Lake Rescue is still open to negotiation with Silver Lake.
"We're 100 percent open to negotiations with Silver Lake Fire," Johnson said.  "Our goal is to have negotiations with the village and the fire department to have things stay status quo."
Some Salem board members were concerned about the perception that they were instigating the "divorce" between Silver Lake and Silver Lake Rescue, but were assured by staff that that was not the case.
"We have not forced ourselves on Silver Lake," Casey said. "We didn't actively pursue this."