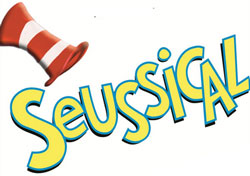 Performances of "Seussical the Musical" will take place the evenings of Dec. 7 and 8, with an afternoon performance on Sunday, Dec. 9 in the Central High School cafetorium.
This student production is under the co-direction of Michael Klimzak and April Jackson.
Seussical the Musical explores the fantastic world of Dr. Seuss! The Cat in the Hat, Horton the Elephant, the Sour Kangaroo, and many others come together to tell the tale of how Horton the Elephant saved the tiny Planet Who and its inhabitants, the Whos of Whoville.
With music and lyrics by Lynn Aherns and Stephen Flaherty (writes of RAGTIME and SCHOOL HOUSE ROCK), this show has it all: pop, rock, rhythm and blues, and musical comedy. It's a comedy and a drama about responsibility and how anything is possible. A great holiday show for the entire family.
Show Dates: Dec. 7 and 8 at 7 pm and Dec. 9 at 2 pm. Ticket Information: $10 for Adults $8 for Students and Senior Citizens. Tickets can be obtained at a reduced rate by purchasing them in advance of the show. To pre-orders tickets go to www.westosha.k12.wi.us.