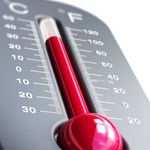 So with the chilly temperatures we've had for about the last week, and the fact that December starts Saturday, it's safe to say winter is here to stay right?
Nope.
The National Weather Service is forecasting a warming trend that is expected for Western Kenosha County to begin today with a high of 48 degrees and continue with highs in the 50s over the weekend and maybe even peaking with a high of 60 degrees Monday.
Looking further ahead, temps may then be back in the mid 30s by Wednesday.